Home
Carol
Richard
Family
Skydive
Running
Travel
Relatives
Yearbook
Nostalgia
Then and Now
Archives

Carriage 5th Wheel Trailer

Travel
Our RV is a 2005 Carri-Lite 36XTRM5 5th wheel trailer. It has 5 slideouts for a total of 397
square feet. One of the most interesting features is the Arizona Sunroom, a living room slideout that contains the dinning room table and recliner-gliders. It's all windows and skylights! We go to the beach frequently so we ordered extra insulation, dual pane windows, and dual A/C units. The sunroom is nice and it can create a lot of heat when facing the afternoon sun, but the dual A/C units keep us nice and cool.
The trailer is actually 36'11" and the maximum loaded weight is 16835 lbs. Loaded with food and all of our things it's a bit over 15000, but we might add a generator someday, and we haven't carried fresh water in the tanks thus far. The specifications say it's 397 sq ft. The maximum allowed by law for RVs is 400 sq ft so there's no opportunity to expand! Carol really likes the space, especially in the kitchen. I have a desk for my ham radio and computer, an HDTV with satellite receiver and surround sound for watching DVDs and football! Carol frequently brings crafts projects and works at the table.
The bedroom is very spacious with a queen-size bed, and we each have a cedar lined closet. We've never run out of hot water in the shower - that was a very important consideration.
There is ample storage space below - in the "basement". We carry multiple chairs, rockers, chaise lounges, carpets, coolers, an air compressor, an extension ladder, a bicycle, and various maintenance items - all down below in three separate compartments that are also heated in case we ever travel anywhere cold - NOT PLANNED!
Our first tow vehicle was a 2005 Ford F-350 King Ranch, 6.0L PowerStroke diesel with a 3.73 re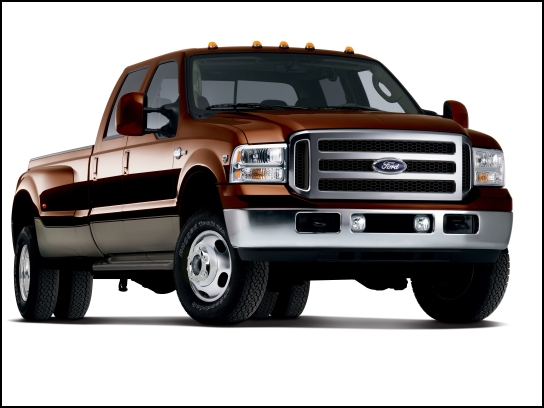 ar end. In 2006 our Gross Combined Vehicle Weight (trailer plus truck) reached 23,000 lbs, the maximum rating for this truck. So we upgraded to a 2007 Ford F-350 with all of the same features plus dual rear wheels, the TowBoss package and 4.30 rear end, which increased the combined weight rating to 26,000 lbs. We don't expect to exceed that weight anytime soon. We've already added an auxiliary fuel tank on the truck and may add a generator to the trailer someday.

We've had quite a few good trips so far but plan to take many more now that Carol is retired. We've been to Las Vegas, several parks at Texas lakes, the Gulf coast at Port Aransas, and National Parks in Colorado and Utah. Our longest trip was 6000 miles over 30 days - from Texas to Colorado, South Carolina, Georgia, and home.
Here are a few photos of the trailer.
---